Principle
Our engineers develop aseptic isolators with guarantees of product protection and process integrity in a class A environment. Our aseptic isolators are systematically based on proven standard concepts (mechanical, electrical, safety, processes, etc.) in conjunction with a custom made design. These choices allow us to offer our customers solutions that are perfectly adapted to the new demands of the pharmaceutical industry with optimized costs and top of the range technical detail.
Class A Environment
Our isolators are generally equipped with laminar flow and dynamic confinement technology so as to ensure the best guarantee of a class A working environment. A personalized QI-QO monitoring report includes the intervention of an independent organization in order to validate the operating mode and the classification of the insulator. Our aseptic isolators are designed on demand to operate in positive pressure, in air or in a pure atmosphere.
Design
Depending on the processes carried out and the devices integrated into the isolator, the workspace can be set out in different sizes and designs. In two-glove, three-glove, four-glove or completely custom-made versions. In single-station or multi-station versions, in the form of a single isolator or interconnected isolators with process separation, and if necessary, with a customized geometry to ensure the best possible integration of a process machine (lyophilizer, presses and tableting machines, formulation and characterization devices, etc.) or other OEM equipment such as those allowing sterility control.
Ergonomics
Particular emphasis is placed on ergonomics such as inclined or straight work faces, ovoid-shaped glove rings, location and inclination of glove rings made to measure according to the process, original storage solutions adapted to the application and a PLC/HMI touch screen control system which is programmed by our automation engineers with different access levels.
From a process safety point of view, the environment remains perfectly safe and controlled thanks to interlocking systems on the pull-down work panels and transfer locks.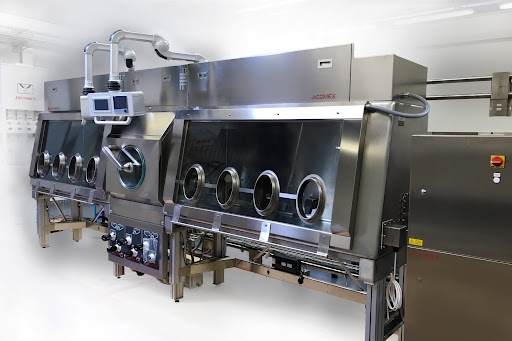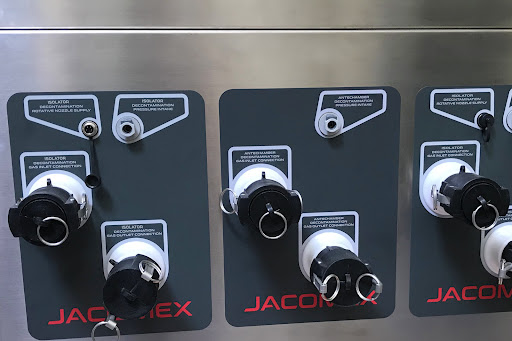 Cleanliness
Whatever the model, our isolators are systematically manufactured according to a one-piece boiler design with rounded corners allowing cleanability or irreproachable decontamination. Designed by experienced employees and manufactured in our own workshops with modern industrial technologies, our isolators fully comply with the highest standards of the pharmaceutical industry and GMP guidelines. Our creations are exclusively produced with best in quality materials such as AISI 316L stainless steel, tempered laminated mineral glass work faces, FDA approved seals and gloves.
Controlled Atmosphere
A totally controlled atmosphere guarantees validated processes. Depending on the operations which are to be carried out, our extensive expertise allows you to have control not only over the usual parameters, such as pressure or temperature, but also over adjustable and stable environmental conditions, such as hygrometry and oxygen levels.
Cleanliness – Bio-decontamination
Our aseptic isolators provide enhanced protection against contamination. This is made possible thanks to the reduction of human interventions, the physical barrier provided by the containment enclosure, the overall tightness of the system, the differential pressure and finally routine decontamination with hydrogen peroxide in the vapor phase. Isolator and entry/exit airlock benefit from a rapid sterilization system, to allow operators to handle products in a highly controlled process.
The bio-decontamination device that we integrate into our enclosures was developed by a specialist company. The autonomous unit is suitable for the bio-decontamination of pharmaceutical industry equipment (isolator, transfer lock, PSM, lyophilizer, etc.). Biological indicators inoculated on Geobacillus Stearothermophilus spores ensure effective cycles with a 6-log reduction in viable contaminants.
Together with our bio-decontamination partner, we select the equipment best suited to your needs. The mobile hydrogen peroxide vapor bio-decontamination system features technology that eliminates all microorganisms by performing rapid, validated, and repeatable cycles. The unit distributes the hydrogen peroxide at the beginning of the cycle and eliminates it at the end of the cycle, thanks to an efficient aeration system. Cycle reports are issued using an integrated thermal printer, in accordance with GMP. For increased safety and to further enhance its performance, this system can be connected to the building's air handling unit.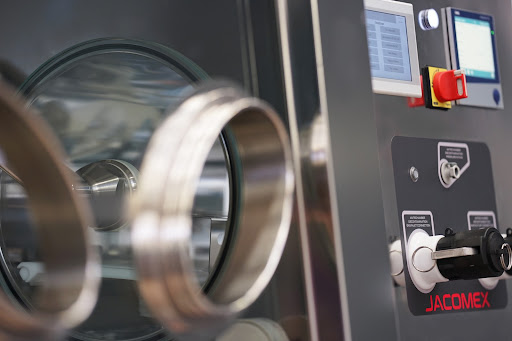 Our
clients
Many customers from a variety of industries have trusted Jacomex to design and manufacture their glove boxes, insulators and air purification systems.