Jacomex Certificates and Controls

Industry Standards
ISO 9001 Standard: TUV ISO 9001 certification: 2015
ISO 10648-2 Standard: Methods and classification of containment enclosures and glove boxes according to their leakage rate.
EN 60439-1 Standard: Self-certification CE
Leakage Test with Helium Mass Spectrometer
For vacuum components, transfer lockers, purifiers and hermetic feedthroughs.
Leakage rate: <10-5 mbar l / sec.
Glove Box Leak Test: ISO 10648-2
Oxygen lift method, class 1, for most glove boxes
Maximum permissible leakage rate: <0.05 Vol% / h.
Typical leakage rate of our factory outlet glove boxes: 0.0005 Vol% / h <Tf <0.0025 Vol% / h.
Note
The tests carried out in accordance with the standard attest to the effectiveness of the sealing techniques developed by JACOMEX. Subsequently, in operational mode, the rise in the oxygen level in a glove box is not attributable to the panels and sealing techniques used, but is mainly due to the permeation of the gloves. For this reason, according to the standard, the tests are carried out with the rounds of closed gloves.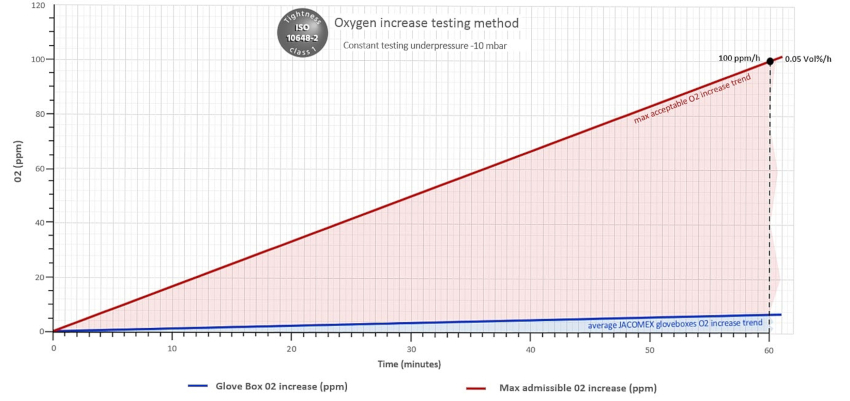 Our Recommendations
Choosing the Right Purification Unit Model: JACOMEX has developed a wide range of high performance gas purification units with enhanced oxygen removal capabilities to suit different glove box designs. Consult us at the start of your project.
During the entire period of use of your glove box: check the condition of the gloves regularly. Change them regularly as a preventitive measure.
On-demand Checks and Authorizations
For industrial, pharmaceutical and nuclear applications
information folders
Certificate Subject according to EN 10204 3.1
Welding procedure, QMOS, Qualification Welder according to EN 1418
Force calculations, seismic calculations etc…
Nuclear habilitation CEFRI
Enabling AFPIC N2 Chemistry
location
184 Avenue du Bicentenaire
Zone Les Prés Seigneurs
01120 Dagneux – France
Made in France
All of our products are designed and manufactured in France