Factory Acceptance Test (FAT)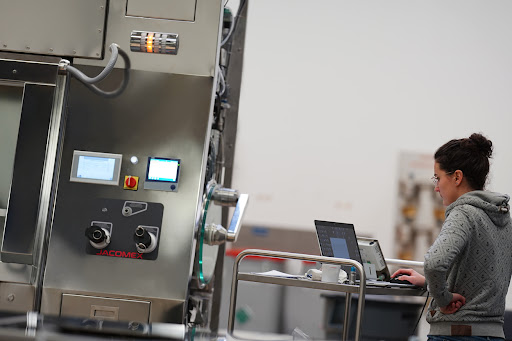 The purpose of the Factory Acceptance Test (FAT) is to demonstrate that the equipment conforms to the requirements expected by the customer and that it functions correctly under normal conditions of use.
In particular, this may relate to:
General functional check

Checking that the transfer airlock(s) and other transfer systems operate correctly
Checking that the flip-up front panel works correctly
Checking that the pressure control works
Checking that the alarms function correctly
Verify that the decontamination system is integrated correctly

Component control

Verification of locations and attendance
Coding verification
Condition and cleanliness

Inspection of surface conditions (Ra)
Factory inspection of glove box tightness (ISO 10648-2)
This FAT is carried out in our facilities near Lyon in Dagneux in Ain. Jacomex's project manager and quality teams work alongside our customers to validate the protocol that will be jointly established. This test, in addition to the verification of the conformity of the equipment, will allow customers to have a solid grounding in the functions of the system.
Our
clients
Many customers from a variety of industries have trusted Jacomex to design and manufacture their glove boxes, insulators and air purification systems.