Glove Boxes for Aerospace Industry Application
Industrial glove boxes are an example of specialist equipment that is frequently used in the aerospace industry. They can be used in the various phases of aeronautical projects, particularly in the manufacture, welding, assembly, rework and repair of parts. But what is an industrial glove box and what is it used for?
Industrial Glove Box
A glove box is a a type of containment equipment where certain manual manipulations are carried out in order to protect them from atmospheric components and the environment or to protect the operators from possible risks. It operates either in negative pressure under air or gas, or in positive pressure under argon, nitrogen or other gaseous mixture. Therefore, its configuration depends on the type of operation.
The industrial glove box can be single or multi-station. Operators access the work area using standard protective gloves attached to the sides. Sophisticated communication systems introduce and extract the elements to be protected without breaking the containment. The dimensions of the industrial glove box can be customized according to the type of application for which it is intended. In the aeronautics sector, large volume models are often used with medium/large transfer or loading airlocks.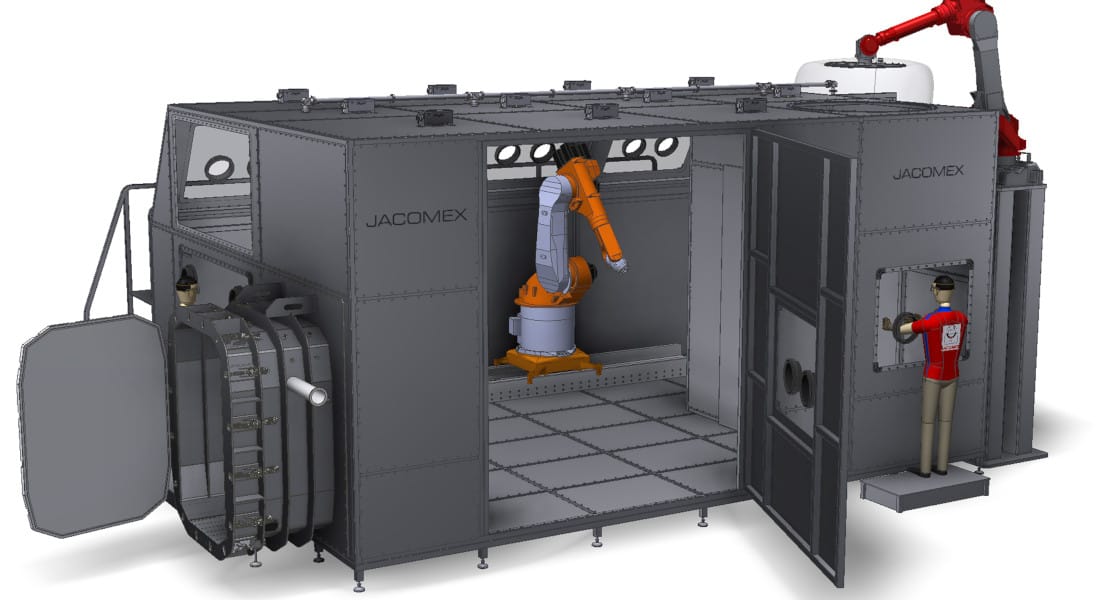 The Glove Box for the Aerospace Industry
Aeronautical processes require special production conditions, hence the importance of choosing technical equipment that is adapted to these requirements and also complies with the relevant safety standards. Therefore, industrial glove boxes designed for the aeronautics industry meet a very high level of safety.
What are their applications?
A glove box can, for example, be used as a welding chamber when titanium or superalloys have to be welded. The working environment is completely safe, allowing welding to be carried out away from the ambient air in order to guarantee the quality and strength of the assembly. Also, this type of enclosure is widely used in additive manufacturing and in aeronautical maintenance processes involving the recycling of asbestos waste, etc.
The use of an industrial glove box is a priority in certain stages of aeronautical research and manufacturing. It improves work ergonomics and productivity, but also guarantees security when handling dangerous material.
Jacomex, an Expert in Glove Boxes for the Aerospace Industry
Specialists in the aeronautics sector have every interest in working with highly qualified experts to access high-performance, certified containment equipment. Jacomex is a world leader in the design and manufacture of industrial glove boxes for many sectors, including aerospace industry. The company manufactures standard, modular or custom-made glove boxes/isolators for high-tech industries.
Jacomex offers the development and management for the entire projects. Whether you are looking to protect operators and/or processes, secure process lines or confine the workspace in order to protect products/substances sensitive to the ambient air, Jacomex can customize your glove boxes according to the specific requirements of your project.
Glove boxes for aerospace industry leaving the workshops in France combine ergonomics and handling comfort. There is, for example, the large glove box G(Mega), which is entirely modular and adapted to different industrial applications and production. Jacomex also offers other ranges of isolators with different properties: the GP(Concept), G(Box), G(Safe), G(Polym) and G(Iso) ranges. The company offers comprehensive technical support to its clients.
Get a Free quote without obligation
Contact our commercial team to get a customized quote for a glove box for Aerospace industry applications made by Jacomex.
location
184 Avenue du Bicentenaire
Zone Les Prés Seigneurs
01120 Dagneux – France
Made in France
All of our products are designed and manufactured in France