Industrial Glove Box - Applications and Specification
An industrial glove box is an essential piece of technical equipment for processes that require containment. It is used when products or processes need to be protected from contamination or when they pose risks to operators or the environment. Inside the glove box, the atmosphere is perfectly airtight, pure and sometimes under vacuum, which ensures processes are secure.
What are the Industrial Applications of Glove Boxes?
The industrial applications of glove boxes includes the entire mechanical or chemical process allowing the production or manufacture of products or chemical synthesis. Industrial glove boxes are used to carry out transformations. The confined enclosure means that highly sensitive products, and hazardous materials and processes do not come into contact with operators and the environment. The internal pressure is usually kept a little above or below atmospheric pressure.
There are many industrial applications for a glove box. It can, for example, be used in additive manufacturing, aeronautics, 3D printing, laser and titanium welding, petrochemicals, microelectronics, food, nuclear, etc.
Glove Box Models for the Industry
Like isolators, an industrial glove box is made using a stainless steel structure, with one or more transparent sides and transfer, regulation, control systems and handling gloves. The operators can work with maximum visibility and comfortably carry out the tasks.
There are standard industrial glove boxes on the market, but there are also manufacturers that offer custom designs. The standard models are suitable for conventional industrial processes. They can be with positive or negative pressure and meet regulatory containment requirements. For advanced industrial sectors, where processes have specific needs, tailor-made industrial glove boxes are more suitable. It is possible, with glove box experts, to review the whole project, the type of operation, the safety criteria required and all the constraints relating to the process in order to develop the appropriate solution.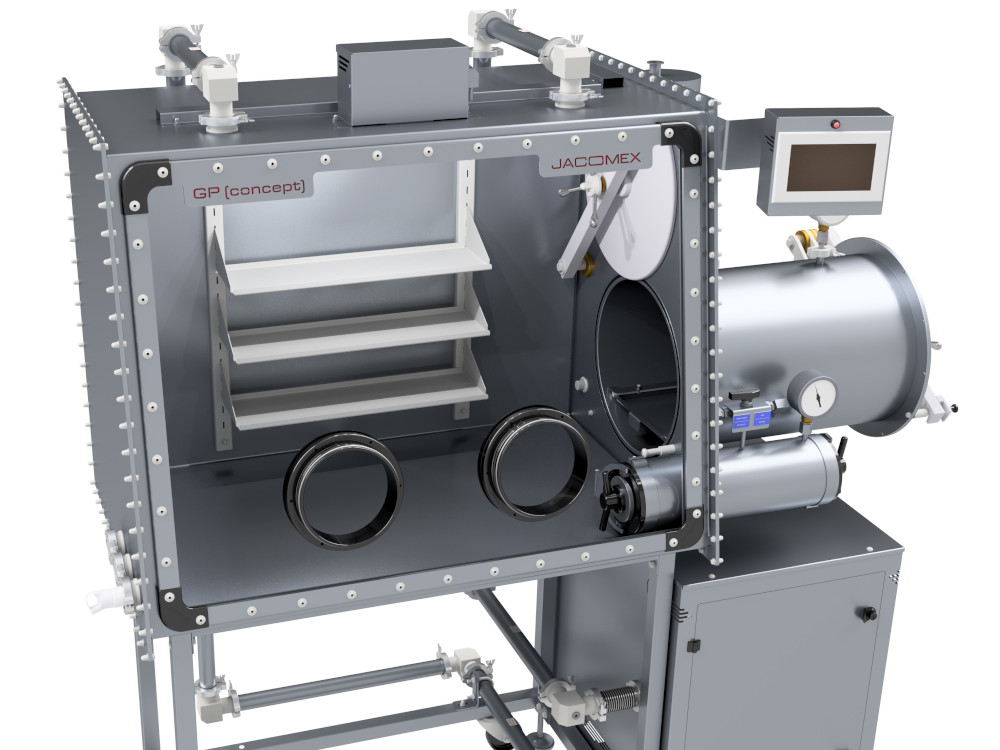 Jacomex, Manufacturer of Industrial Glove Boxes
Jacomex is a specialist in the manufacture of containment chambers and glove boxes dedicated to the industrial, medical and research sectors. The company is based in France.
The company is able to design containment solutions perfectly made to your project due to its expertise in cleantech.
Jacomex offers options between standard, modular or tailor-made glove boxes according to your specific application and the constraints of your processes. Its products comply with current safety standards, whether you need protective equipment for your operators, security for your production line or containment for your workspace in order to handle, store or experiment with sensitive products.
Get a Free quote without obligation
Contact our commercial team to get a customized quote for an industrial glove box by Jacomex.
location
184 Avenue du Bicentenaire
Zone Les Prés Seigneurs
01120 Dagneux - France
Made in France
All of our products are designed and manufactured in France