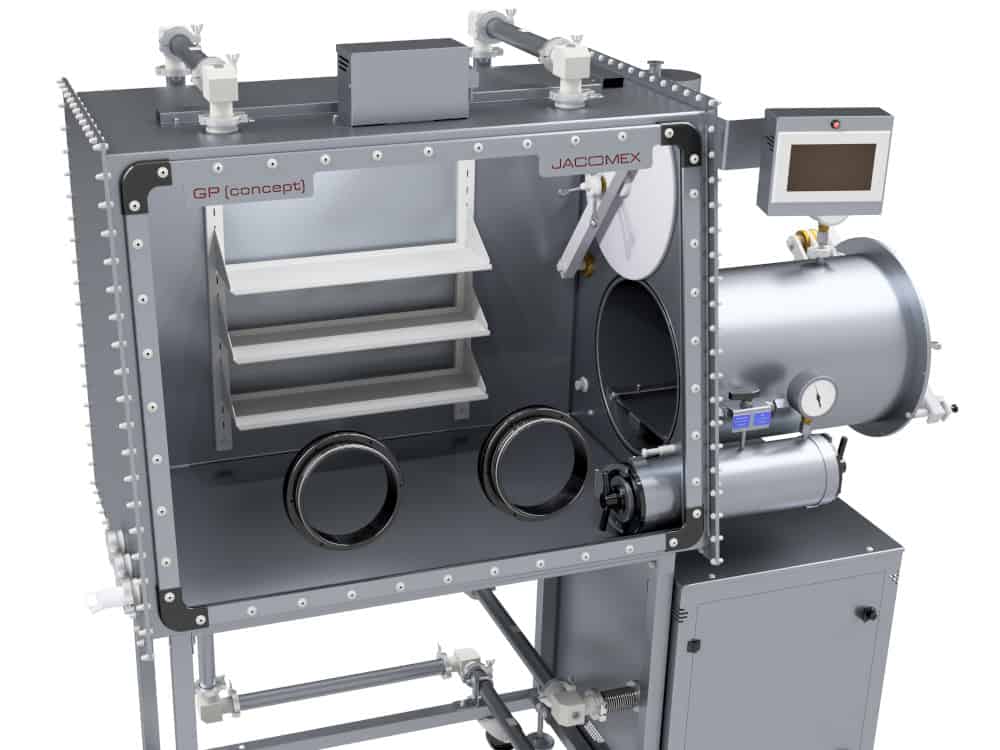 Aseptic manufacturing and various medical processes require the use of a medical isolator, a glove box for medical applications. Standards and regulations are very strict. This medical equipment is essential in the manufacture of custom medical and surgical implants where it is absolutely necessary to confine the products and prevent any form of contamination. It is the more practical and less expensive solution for medical manufacturing processes while meeting safety rules.
Definition of Medical Isolator
A medical isolator is a sealed enclosure for performing aseptic distributions where all productions need to protect the product and sterility in a sanitized and confined environment. Its hourly leakage rate must be between 0.1 and 0.5% of its volume to guarantee its effectiveness. The equipment is bio decontaminated with hydrogen peroxide or H2O2. It is fitted with very high efficiency HEPA or ULPA filters to isolate the area from the external environment.
Inside the medical isolator, various manipulations, injectables filling, etc. are protected from microbes and particles that could compromise the process or the products.  This makes the environment perfectly confined and protected from contamination linked to humans or external environment. An isolator can also protect operators from potentially dangerous products during toxic processes.
In the medical industry, the isolator is useful in the manufacturing and control processes of healthcare products and in risky preparations. A medical isolator is used to ensure consistency during industrial processes leading to the protection of the product, operator and environment.
Pharmaceutical isolators are generally required for aseptic fabrication and other processes in the medical field when certain operations and assemblies require special conditions such as control of the atmosphere, whether particulate or gaseous, or compliance with strict recommendations in a specific process.
Jacomex's isolators have been designed specifically for use in the vast medical sector where the requirements are often highly specific, extremely precise and operate in a range of cross-applications involving pharmaceuticals, biology, microelectronics as well as ensuring that both the products and operators are protected more generally.
Jacomex is one of the few suppliers on the market with a multidisciplinary technical background. As a result, our solutions can combine the specificities of many different sectors in order to obtain a tailor-made isolator that will perfectly meet the most demanding specifications. As always, there are certain technical limits and physical constraints that cannot be crossed but Jacomex's specialized design office, with its long-standing expertise, will be able to guide you towards a rational technical solution. Another major advantage is that the company controls all the various stages throughout the project: not only the design but also all the phases that follow, such as boiler making, manufacturing, assembly, controls and tests. This flexibility is of great interest in designing a medical isolator.
Jacomex Areas of Expertise for Medical Isolators
Ultra-pure controlled atmospheres

: many applications require an atmosphere totally free of oxygen and/or humidity. Jacomex has developed stand-alone units that, when connected to isolators, allow closed-loop operation under neutral gas (Nitrogen, Argon or gas mixture containing one % of helium). The isolator is entirely controlled by a PLC with centralization on a touch screen and it is entirely possible to obtain residual H20 and O2 contents at 1 ppm or less. Industrialists specialized in the manufacture of pacemakers and cardiac stimulators have entrusted Jacomex with the design of their isolators for a long time in the various steps of their different manufacturing processes, such as the closing of titanium cases. Other more microbiology oriented laboratories work with isolators under strict anaerobic conditions (<1ppm O2).

Controlled and regulated atmospheres

: Jacomex isolators are also used in many sites specialized in implants (bone, surgical, dental …). Very precise specifications are established for each project as the constraints can vary enormously. In the case of oxidation risks, it is possible to work in a controlled atmosphere without oxygen, measured either in ppm or in percentage. For work on hygroscopic products, the atmosphere of the isolator can be dried, measured either in ppm or as a percentage.

Climatic atmospheres

: Jacomex is also a specialist in controlled atmospheres, where the temperature and humidity are regulated. Hygrophilic products, certain assembly processes and other processes may require an atmosphere with a minimum level of relative humidity and without exceeding a certain temperature,  to avoid running the risk of seeing the products deteriorate.

Particle control

: the growing quality requirements in the medical sector increasingly call for isotechnics and require particle control, as outlined in the 14644-1 standard, combined with a controlled or regulated atmosphere. The addition of a laminar flow in the isolator is possible and generally delivers a quality level in the ISO5 or ISO4 class.

Compatibility of materials with health standards

: some fields of application, in particular implants, require strict control in the design of the isolator and in the choice of materials. Jacomex has developed a range of equipment whose mechanisms are free of lubricants and certain properties, making their use perfectly compatible with the strictest hygiene and health regulations. It is also possible to provide certain specific functional coatings.

Operator safety

: thanks to its expertise in the nuclear field, Jacomex regularly supplies the safest vacuum filtered medical isolators when radioactive sources have to be used (radiolabelling, cancer treatment…).
From a design point of view, Jacomex medical isolators are designed to provide optimal cleanability, in order to avoid cross-contamination and to decontaminate the working volume when necessary.
Why use a Medical Isolator?
Formerly, aseptic distributions were carried out in sterile clean rooms. With the introduction of medical isolators, processes require lower sterile volumes, which is more practical. A medical isolator is more ergonomic and less expensive to set up for the medical and medical industries.
A medical isolator must meet a specific specification to be in accordance with medical regulations, ISO standards and the GMP requirements (good manufacturing practices). It even offers better sterility compared to clean rooms. Throughout the aseptic process, from sterilization to sealing the final packaging, the risk of aseptic breakdown is minimized. In general, the equipment incorporates software functions, connectors and accessories that facilitate its use and monitoring. It needs control tests at least once a year. Isolators are modern medical technologies for use in the medical industry and related fields.
Get a Free quote without obligation
Contact our commercial team to get a customized quote for a medical isolator.
location
184 Avenue du Bicentenaire
Zone Les Prés Seigneurs
01120 Dagneux – France
Made in France
All of our products are designed and manufactured in France