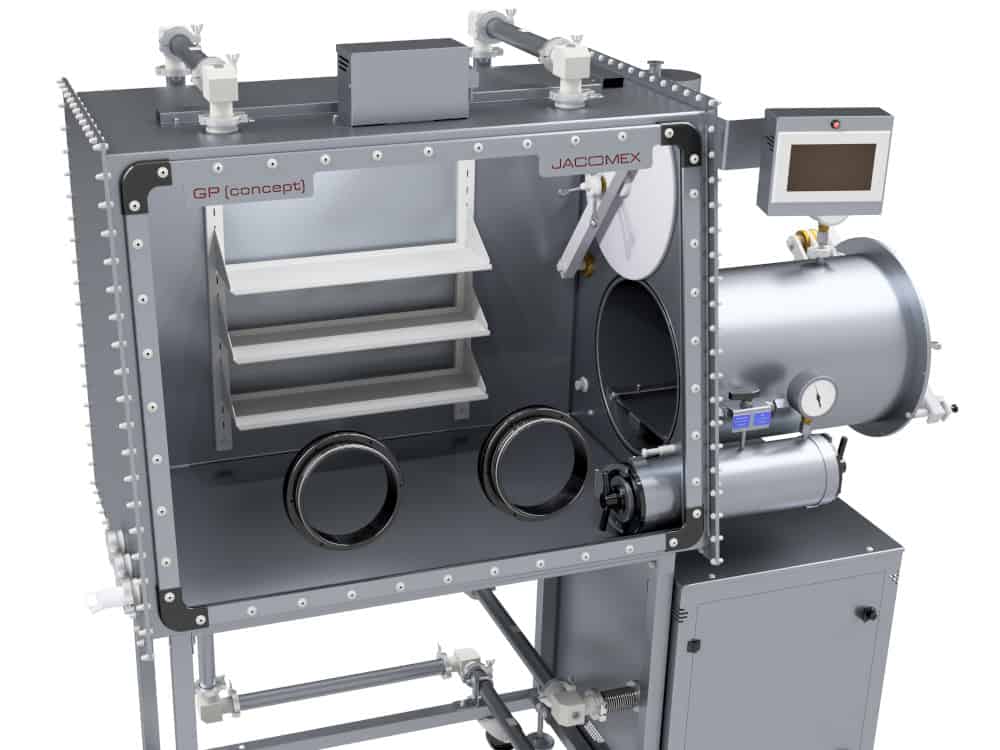 Aseptic manufacturing and various medical processes require the use of a medical isolator, a glove box for medical applications. Standards and regulations are very strict. This medical equipment is essential in the manufacture of custom medical and surgical implants where it is absolutely necessary to confine the products and prevent any form of contamination. It is the more practical and less expensive solution for medical manufacturing processes while meeting safety rules.
Definition of Medical Isolator
A medical isolator is a sealed enclosure for performing aseptic distributions where all productions need to protect the product and sterility in a sanitized and confined environment. Its hourly leakage rate must be between 0.1 and 0.5% of its volume to guarantee its effectiveness. The equipment is bio decontaminated with hydrogen peroxide or H2O2. It is fitted with very high efficiency HEPA or ULPA filters to isolate the area from the external environment.
Inside the medical isolator, various manipulations, injectables filling, etc. are protected from microbes and particles that could compromise the process or the products.  This makes the environment perfectly confined and protected from contamination linked to humans or external environment. An isolator can also protect operators from potentially dangerous products during toxic processes.
In the medical industry, the isolator is useful in the manufacturing and control processes of healthcare products and in risky preparations. A medical isolator is used to ensure consistency during industrial processes leading to the protection of the product, operator and environment.
Why use a Medical Isolator?
Formerly, aseptic distributions were carried out in sterile clean rooms. With the introduction of medical isolators, processes require lower sterile volumes, which is more practical. A medical isolator is more ergonomic and less expensive to set up for the medical and medical industries.
A medical isolator must meet a specific specification to be in accordance with medical regulations, ISO standards and the GMP requirements (good manufacturing practices). It even offers better sterility compared to clean rooms. Throughout the aseptic process, from sterilization to sealing the final packaging, the risk of aseptic breakdown is minimized. In general, the equipment incorporates software functions, connectors and accessories that facilitate its use and monitoring. It needs control tests at least once a year. Isolators are modern medical technologies for use in the medical industry and related fields.
Get a Free quote without obligation
Contact our commercial team to get a customized quote for a medical isolator.
location
184 Avenue du Bicentenaire
Zone Les Prés Seigneurs
01120 Dagneux - France
Made in France
All of our products are designed and manufactured in France