Pharmaceutical isolators for protection of the product, operator and environment
The constant evolution of safety standards in the pharmaceutical sector has boosted the market for isolators, especially on production lines where isolators represent the most effective barrier systems to aseptic risk.
Away from the major industrial production lines, JACOMEX has built a solid reputation on stand-alone work units or multi-station assemblies requiring specific regulated and controlled atmospheres for the cumulative protection of products, personnel and the environment.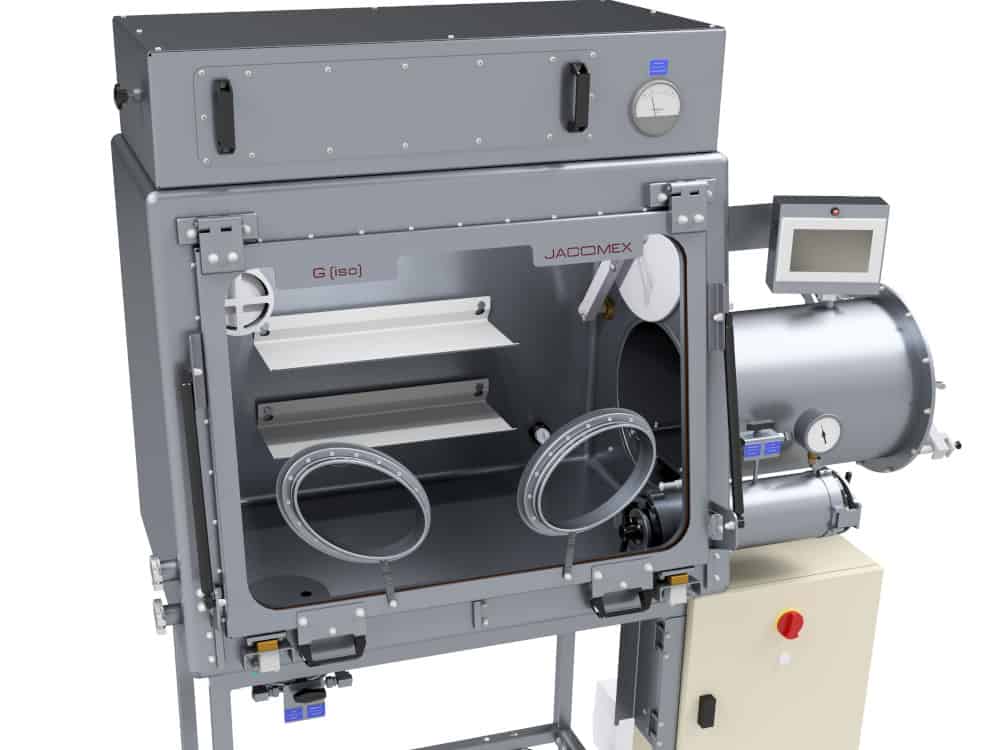 A long-standing leader in the design and manufacture of customised glove boxes for the nuclear, chemical and biological sectors, Jacomex puts all its expertise and structural configuration (design office, engineering, R&D department, production plant, assembly and test workshops) at the service of pharmaceutical laboratories for all innovative projects requiring safe processes in protective atmospheres.
Galenic research develops, on ultra-modern industrial technological platforms, the increasingly sophisticated drugs of tomorrow, that will be used in particular in the delivery of more effective and less toxic nanoparticulate anti-cancer active ingredients, in improving the antibacterial power of immune cells for the treatment of advanced sepsis, or in microbiome science for the production of new generations of probiotic and therapeutic bacteria.
The pharmaceutical industry combines its work with scientific advances from various sectors such as biotechnology and nanotechnology. In these phases of development and production of new active ingredients, nanomedicines, living biotherapeutic products (LBP), Jacomex offers innovative stainless steel isolators that meet the cross-sector requirements of the pharmaceutical, medical and microbiology sectors.
Jacomex Isolators
Jacomex pharma isolators are suitable for operation in laboratories, clean rooms, climatic rooms and controlled areas.
Operation, Internal Atmosphere of Pharma Isolators
Operation / internal atmosphere: depending on the objectives, Jacomex isolators can operate at under or over pressure in relation to the atmospheric pressure of the room, either under air, dry air, nitrogen, argon or a gaseous mixture.
Jacomex offers technical solutions for highly variable controlled atmospheres:
Temperature control and regulation,
Moisture control and regulation (drying for an adjustable maximum moisture content, e.g. 0.1%RH – humidification for an adjustable minimum moisture content, e.g. 30%RH),
Control and total elimination of oxygen thanks to a closed-loop gas purification system allowing a strict anaerobic environment < 1 ppm O2.
Control and elimination of solvents thanks to an autonomous VOC trapping unit.
Filtration of Jacomex Pharmaceutical Isolators
Jacomex isolators are equipped with HEPA 14 or ULPA particulate filters in inlet and outlet (turbulent flow).
It is possible to integrate a laminar flow in the isolator in order to obtain a minimum particle cleanliness class ISO 5 according to ISO 14644.
Human Machine Interface (HMI)
Jacomex pharma isolators are managed by programmable logic controllers (PLC) and all data and parameters (settings, alarms, curves, values, etc.) are displayed directly on a coloured touch screen.
Cleanability / Decontamination of Jacomex Pharma Isolators
Jacomex isolators in AISI 316L stainless steel are carefully designed and optimized for easy cleaning and decontamination by hydrogen peroxide vapor (H202). All corners are rounded, welds and surfaces polished with controlled roughness (Ra < 0.6µm).
Isolator Instrumentation
All kinds of instrumentation can be provided or integrated into Jacomex isolators: Laboratory equipment, precision balance, ovens, incubators, rotary evaporators, synthesis, filtration, extraction, purification, analysis, characterization, thermostatic baths, stirrers, freeze dryers, Karl Fischer titrators…
Integrable transfer systems
Jacomex isolators can be equipped with different transfer systems depending on their use: Vacuum airlocks, ventilated airlocks, Bag-In-Bag-Out, Alpha Beta flanges, EziDock or similar.
Jacomex isolators are offered with safety, alarms, certifications, documentation, IQ-QO qualifications and FAT-SAT tests.
Get a Free quote without obligation
Contact our commercial team to get a customized quote for an pharmaceutical isolator made by Jacomex.
location
184 Avenue du Bicentenaire
Zone Les Prés Seigneurs
01120 Dagneux – France
Made in France
All of our products are designed and manufactured in France