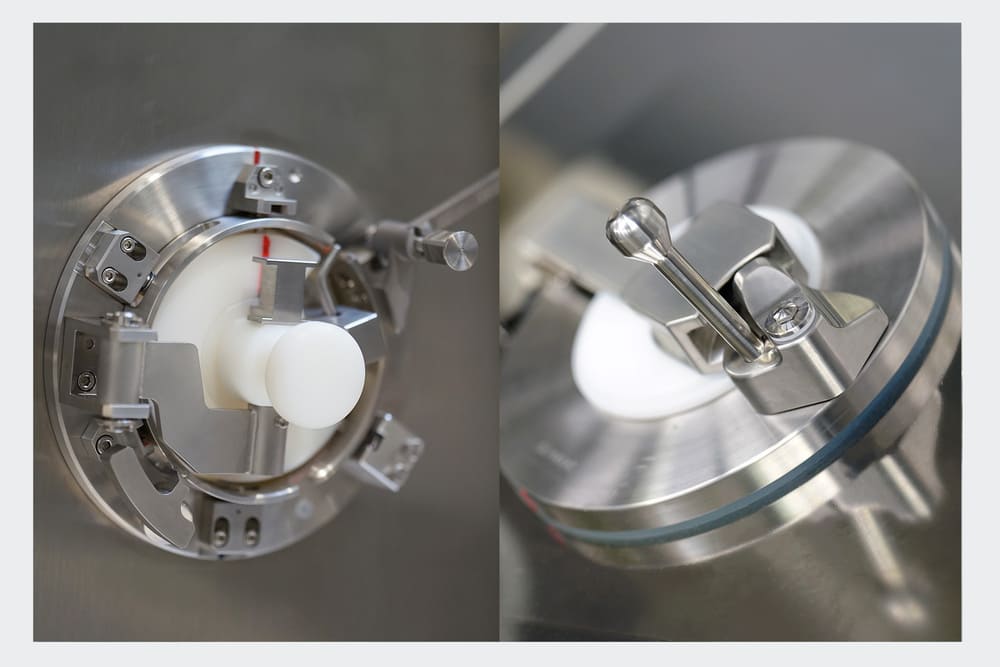 For handling and transfers that require absolute safety, it is essential to provide RTP flanges on the glove box or the isolator. These double sealed transfer door systems are above all a means of avoiding breaches of containment during the transfer of a product.
They consist of two complementary units, called "Alpha" (fixed flange on the containment) and "Beta" (disconnectable mobile system: container, tubing with bag) with mechanical locking safety devices and opposite seals. In principle, during the connection of the mobile part by rotation of 60 degrees, the two parts join together at the same time as the doors dissociate from their support and are fixed together, the seals continuing to ensure the seal of the new assembly.
Technical specifications – Information
Technical data:
Door: stainless steel or polyethylene
Models: internal Ø 105 – 190 – 270 – 350 même
Models: useful Ø 95 – 170 – 250 – 330 même
Disconnectable container: depending on HDPE – stainless steel – transparent PVC models
Supplied with O-ring and clamping nut
Possibility of interlocking
Many options available for pharma applications
Need help or an offer? Contact us
* Fields marked with an asterisk are required.