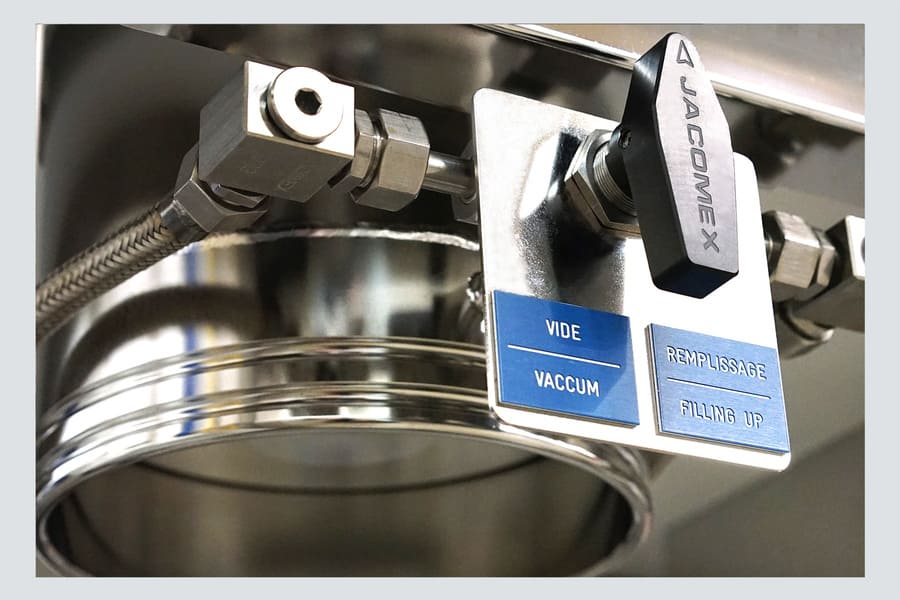 Bag rings are an effective system which allows waste and powders to be evacuated securely. For our glove boxes operating under vacuum air (Gsafe and Giso), the system is similar to a Bag-In-Bag-Out device equipped with a heat-sealable bag or a flexible polymer liner.
Technical specifications – Information
Technical data:
Standard diameter 186 mm – 250 mm (others on request)
Stainless steel or polymer material depending on use
Equipped with a removable inner door
Double safety groove system
Heat-sealable PE EVA bags as standard
When used in this way, it allows the contaminated HEPA filters, dangerous, toxic or contaminating powders which may have been previously collected in a bag to be eliminated thanks to our closed loop vacuum cleaner. This waste is placed in the bottom of the liner or bag. A heat sealer makes it possible to effectively seal this waste and create an airtight pocket which can be transferred and recycled according to the safety instructions.
For our inert (Gbox) or purified (Pure range) glove boxes, the system is optimized to make it compatible with maintaining an inert atmosphere. The stainless steel bag rings make it possible to render the heat-sealable bag inert and to evacuate risky metal powders using the same principle of evacuation before neutralization or post-treatment.
Need help or an offer? Contact us
* Fields marked with an asterisk are required.