Glove Box in Controlled Area
The glove box cannot be separated from various nuclear processes requiring a controlled zone. Because of the dangers and exposure risks of these types of processes, the use of protective equipment is mandatory. The glove box is a device that can guarantee optimal safety provided by a model adapted to the specific application and meeting the standards and regulations in force.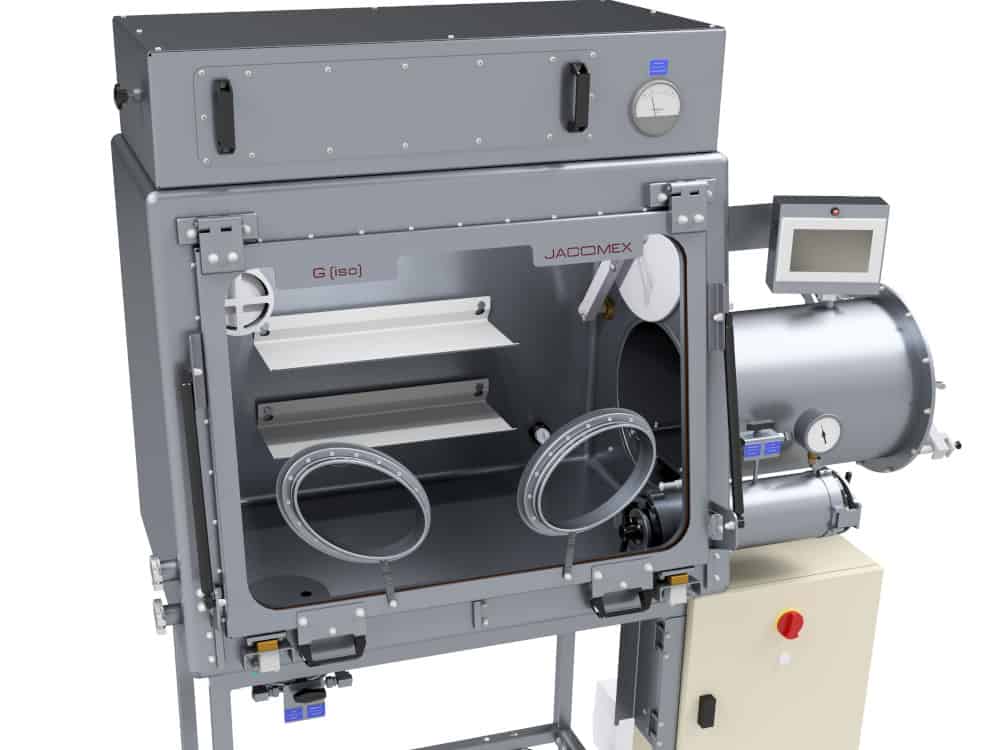 When is a Controlled Area Required?
For safety reasons, scientific applications that expose operators to hazardous materials or products may require a monitored or controlled area. In particular, this is one of the main conditions for carrying them out when they involve sources of ionizing radiation, in this case radionuclides or radioactive materials, elements and devices emitting ionizing radiation, etc. In general, a monitored zone is required if the risk of exposure to this radiation for workers exceeds 1 mSv per year and a controlled zone is required if this risk exceeds 6 mSv per year.
The controlled area is the delineated working area where the external and internal exposure doses are reduced in order to protect workers. It prevents the dispersion of the radiation source and the contamination of the work station. Its radiological cleanliness thus minimizes the risks for operators and the environment. The controlled area can be a glove box, fume cupboard or other enclosed safety device. Adequate personal protection must also be worn to avoid contaminating the process.
A glove box in a controlled area allows the handling of sealed or unsealed radioactive sources or ionizing radiation emitting elements for research or manufacturing purposes. It is most often used in nuclear applications and in certain industrial and medical processes.
What Type of Glove Box to Choose?
The glove box in a controlled zone guarantees reinforced protection thanks to its waterproof and protective enclosure. This equipment has a stainless-steel lining with transparent panels. These panels are designed to delimit the controlled zone and offer better visibility to the operators. They also incorporate glove ports to allow handling from the outside. A glove box uses, among other things, regulators for the control and monitoring of its internal conditions (pressure, gases, etc.) as well as transfer locks for the circulation of the substances/products to be handled and the necessary instruments. Containment is thus respected, that prevents radioactive contamination. An automatic safety flow is also provided to contain risks if an incident occurs.
Specific glove boxes allow the containment of hazardous substances that require a controlled area. Thanks to their vacuum operation, they provide optimal protection for the operator and the environment. They can be used for radiation protection in nuclear power plants, but also when handling pathogens in biological and pharmaceutical laboratories.
Since the delimitation of the controlled or monitored zone and the particular safety rules depend on the nature and risk level of the radiation source, a highly secure glove box should be chosen.
At Jacomex, you have the possibility of configuring their level of safety thanks to its range of modular and custom-made controlled zone glove boxes. Whether to protect the products or the operator and the environment, this company will study your project and your specifications to develop installations adapted to the risks and high requirements of radiation protection.
Get a Free quote without obligation
Contact our commercial team to get a customized quote for a glove box made by Jacomex.
location
184 Avenue du Bicentenaire
Zone Les Prés Seigneurs
01120 Dagneux – France
Made in France
All of our products are designed and manufactured in France