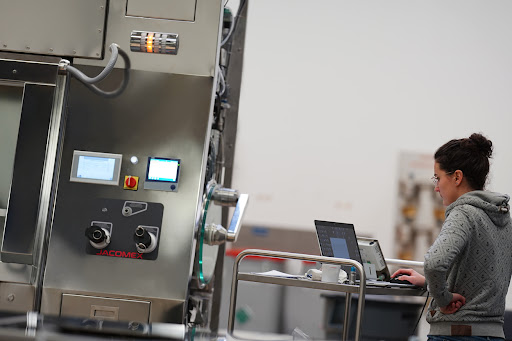 For specific projects, in particular in the pharmaceutical and medical field, our quality department in association with our project managers and the design office systematically offers a manufacturer's guide with a personalized project management which will most often include:
A technical follow-up,
3D modeling with general plans and details
Ergonomics and internal accessibility control (processes and instrumentation)
QI-QO reception,
FAT factory acceptance
SAT site reception.
FAT reception enables equipment to be qualified according to predefined protocols confirmed by the parties involved. Each reception and the related protocols are tailor-made according to the project.
SAT reception also enables qualification of equipment and processes at the insulator destination site. Different tests, also mutually agreed between the parties, can be carried out in accordance with the functionalities of the isolator such as flow velocity distribution and homogeneity mapping, particle counting, integrity of the filtering systems and sealing check filter assembly, dust class control, smoke test recorded to demonstrate the homogeneity of the flow and the absence of turbulence for the insulators under laminar flow.
Different URS and type of isolator checks can be carried out on request, depending on user constraints, such as particle counts, measurements of air speeds and flow rates, differential pressure, temperature and hygrometry, filter integrity tests ( Emery 3004), visualization of air flows (smoke test), dustiness classes, mapping of air speeds, flow rates, mixing and renewal rates, sound levels, etc.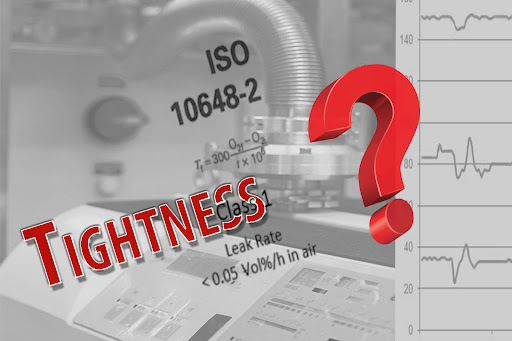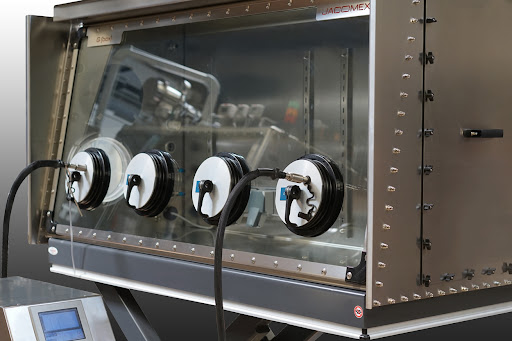 We use independent inspection companies or privileged partners of the Gloveboxes Group to carry out certain specific tests which will ensure the final design and/or the final qualification of the insulator is validated.
On request and by prior common agreement, it is possible to envisage a mock-up or model making it possible to optimally visualize the ergonomic aspects, machine and process integration, cleanability/decontamination in a real situation and on a 1:1 scale.
Sealing checks in conformity with the ISO 10648-2 standard are carried out internally by our qualified personnel. 30 years ago, Jacomex engineers, in conjunction with the CEA and under CEA license, developed the first leak test device (Oxyleak / oxygen lift method) for glove boxes, isolators and containment enclosures in accordance with the ISO 10648-2 standard and classifying these enclosures according to their leakage rate. In order to guarantee the best safety for operators as well as delivering stable and reproducible performance over time, our installations and isolators are generally rated class 1 or 2 according to this standard.
A graphic recording of the test and final report attest to the validation of the product in its given category.
Requalification tests can also be carried out by our After-Sales Service-Maintenance team throughout the installation's life.
Our
clients
Many customers from a variety of industries have trusted Jacomex to design and manufacture their glove boxes, insulators and air purification systems.